News
Latest updates from the campaign:
Wednesday, April 21, 2021 5:51 PM
If elected DA, Charles Peruto first would go after drug organizations
---
Wednesday, April 7, 2021 11:23 AM
The Philadelphia Bar Association hosted a virtual forum Monday featuring the three candidates for Philadelphia District Attorney – incumbent Larry Krasner, Democratic challenger Carlos Vega and Republican candidate Charles Peruto. One of the first public forums featuring the three candidates, the event attracted nearly 600 attendees.
Candidates were asked questions on a variety of issues related to the administration of justice in Philadelphia, including questions submitted by the audience through the Zoom QA feature. Riley Ross, chairman of the Association's Board of Governors, acted as moderator. The event was organized by the Association's Criminal Justice Section, City Policy Committee, Civil Rights Committee, and Government and Public Service Lawyers Committee.
---
Wednesday, March 31, 2021 11:20 AM
---
Thursday, March 25, 2021 11:19 AM
Tracey L Fisher speaks to Chuck Peruto about the state of crime in Philadelphia, gun violence, the Philadelphia DA race, and how best to prosecute crime in Philadelphia.
---
Thursday, March 4, 2021 6:16 PM
The Republican City Committee has endorsed lawyer Chuck Peruto for district attorney.
City party chairwoman Martina White noted that homicides have increased 36 percent this year compared to 2020, when Philadelphia had 499 murders....
---
Friday, February 19, 2021 6:17 PM
In a move that's sure to offend every cop in the city, District Attorney Larry Krasner's office has covered up a "Wall of Remembrance" that features plaques honoring some 200 hero cops who died in the line of duty.
---
Tuesday, February 16, 2021 12:31 PM
Peruto's message is succinct and clear and avoids the grandstanding rhetoric of a social experiment: "Reduce gun violence in the city."
---
Wednesday, February 10, 2021 4:36 PM
---
Tuesday, February 9, 2021 7:00 PM
Chuck Peruto Jr., top attorney from Philadelphia, joins the Dom Giordano Program to announce his candidacy in the District Attorney race, as a Republican, against incumbent Larry Krasner. First, Peruto explains why he's willing to leave his day job to work for the public, telling that the city has gotten to such a point where he believes he has no other option. Then, Peruto explains why his experience as a criminal defense attorney would apply well to what needs to be done in the city, explaining how his experience in the field differs from current DA Krasner.
---
Tuesday, February 9, 2021 6:53 PM
PHILADELPHIA - Philadelphia defense attorney Charles Peruto Jr. has announced he will run as a Republican against Larry Krasner in May's election for DA. Peruto says Krasner has been too soft on crime and he intends to change that if elected.
---
Tuesday, February 9, 2021 5:36 PM
Charles Peruto Jr., un conocido abogado defensor de Filadelfia, anunció el martes su candidatura al escaño de fiscal de distrito de la ciudad.
---
Tuesday, February 9, 2021 5:31 PM
Philadelphia defense attorney Charles Peruto Jr. announced Tuesday that he is running as a Republican in the race for Philadelphia District Attorney. Peruto could pose a general election challenge to Democratic DA Larry Krasner.
---
Tuesday, February 9, 2021 5:14 PM
PHILADELPHIA (KYW Newsradio) — A well-known defense attorney in Philadelphia has tossed his hat into the ring for the city's district attorney....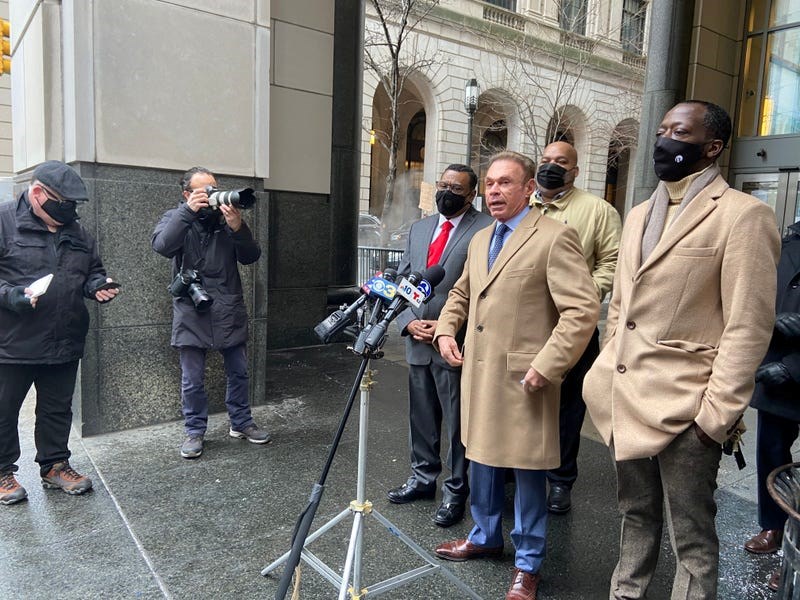 Charles Peruto Jr. speaks outside the Juanita Kidd Stout Center for Criminal Justice
in Philadelphia to announce his run for district attorney, Feb. 9, 2021.
Photo credit Kristen Johanson/KYW Newsradio
---
Tuesday, February 9, 2021 2:23 PM
A. Charles "Chuck" Peruto Jr., a defense attorney with a flair for the flamboyant, pointed Tuesday to the revolving doors at the city's Criminal Justice Center and said that's how his clients view the system under District Attorney Larry Krasner....
DAVID MAIALETTI / STAFF PHOTOGRAPHER
---
Monday, February 8, 2021 6:32 PM
PHILADELPHIA (WPVI) -- With a primary election just over three months away, we're getting a clearer picture of who is vying for a spot on the ballot in the race for Philadelphia district attorney.

On Monday Chuck Peruto, a criminal defense attorney famous for representing high-profile clients such as reputed mob boss Joey Merlino and convicted serial murderer Gary Heidnik, announced he'd be running for Philadelphia District Attorney as a Republican candidate.
---
Monday, February 8, 2021 12:23 PM
The Lawyer who defended Joey Merlino and Hary Heidnik blames DA Larry Krasner for the city's surge in gun violence....
---
Thursday, April 2, 2020 3:22 PM
The well-known criminal defense attorney voted for Krasner. Now, he's ready to unseat him...